A Unique Vision
Looking to reduce the amount of stress on our landscapes due to a growing population, Roeslein Alternative Energy created a solution for competing demands - the need for both food and energy to serve a growing planet. When land not naturally suited for agriculture is used to raise corn or soybeans, erosion, soil degradation, and water problems emerge. Ironically, the quest for additional energy often finds prime agricultural land raising crops for fuel, rather than food. But, there is an alternative that restores balance, it creates a new sustainable energy industry, manages livestock and land resources better, plus it delivers clean water and new habitat. The solution, anaerobic digestion. Roeslein Alternative Energy works to not only preserve the land for the future, but to show people ways that they themselves can put these practices into use on their own farms.
Read More
Our mission is to help individual landowners and society as a whole collaboratively discover and implement alternative biomass and energy solutions. This mission will be accomplished in both ecologically and economically sustainable ways to protect and restore our environment and ecosystems.
By placing impermeable covers over hog manure lagoons, RAE is able to capture methane gas created by the anaerobic digestion process. The methane gas is upgraded to renewable natural gas and injected into the natural gas pipeline grid where it is available to millions of potential customers.
Through anaerobic digestion, RAE's goal is to restore 30 million acres of grasslands throughout the Midwest region within the next 30 years. Using this model it's our goal to restore hundreds of millions of acres of grassland around the globe. We call it our 30-30 program.
Why Anaerobic Digestion?
Anaerobic digestion naturally breaks down organic matter in an oxygen-free environment. A byproduct is a methane-rich biogas which can be converted to renewable natural gas, chemically identical to fossil natural gas. It can be used as a transportation fuel or injected into the natural gas grid system. The remaining solids can be used as natural fertilizer and the water for irrigation. With RAE's leading technology, 850,000 tons of CO2 methane will be prevented from reaching the atmosphere. That's equivalent to filling 56,000 big rig trucks with a full tank of diesel fuel per year.
Learn More
From engineering, procurement and construction (EPC) through consulting, project management and fabrication capabilities, RAE has you covered.
Scalable to a variety of industries, anaerobic digestion is a natural technology that creates biogas, a gas mixture consisting mainly of methane.
Working to restore 30,000,000 acres of land to native prairie grasses to create a better world for the years to come.
Focusing on the impact of their environmental, health and safety decisions, continuous education, standards, and procedures are in place.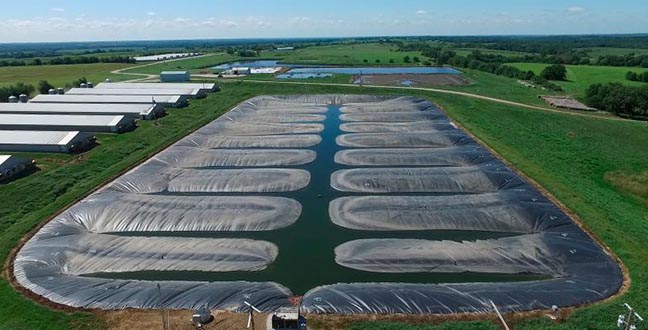 Through Innovation and Risk
With the goal of giving farmers the opportunity to be in the energy market, Roeslein Alternative Energy began working with Smithfield Hog Production of Missouri, on their Northern Farms; this would be a $100 million renewable biogas project. The project centered on gathering hog manure into covered lagoons and capturing the methane gas released through the natural anaerobic digestion process. The captured gas then would travel through equipment for cleaning and compression in preparation of injection into the pipeline. Roeslein Alternative Energy's role as a developer in the project ranged from full engineering of the systems to fabrication and/or procurement of necessary process systems, progressing to project installation, commissioning and start-up.
Read More
Ground Breaking and Award Winning