Published by Ag Professional
Written by Sara Brown
On 1,000 acres in northwest Missouri, rolling fields filled with flowers and butterflies are the backdrop of a booming technology revolution on hog farms across the country. Acres of native pastures are just one part of Smithfield's sustainability efforts to turn hog manure into biogas energy to heat homes across the country and further environmental sustainability goals at the same time.
These goals might seem to be at odds with each other. But for several years, Smithfield Foods has been partnering with Roeslein Alternative Energy (RAE) at nine locations in northwest Missouri to capture methane gas from hog lagoons to create renewable natural gas.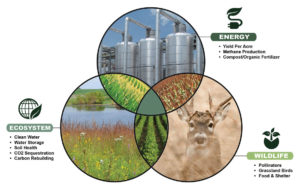 In 2017, Smithfield, along with several of its contract farmers, spearheaded a pilot program known as Optima KV in North Carolina. Optima KV uses five anaerobic digesters to capture and clean biogas collected from in-ground digesters and is then transported to a central facility to be converted into renewable natural gas (RNG).
Both efforts are part of Smithfield Renewables, a platform announced in October 2017 to help meet the company's goal of carbon reduction and renewable energy efforts. Specifically, their goal is to reduce greenhouse gas emissions by 25% by 2025. One year later, Smithfield announced, through the nationwide expansion of Smithfield Renewables, innovative projects to help the company meet this goal. This includes expanding projects in Missouri and North Carolina as well as implementing new projects in North Carolina, Virginia and Utah. Smithfield will continue its work with RAE in Missouri and has formed a partnership with Dominion Energy that focuses on the other three states.
"We've been working on manure to energy projects for 20 years plus," says Kraig Westerbeek, director of Smithfield Renewables. "These are very complicated projects. We believe the technology has come along and, at the same time, the market for renewable energy has come along as well. This is the right time for these projects to start to make sense."
Technology Meets the Farm Biogas Supply in Missouri
Covering hog lagoons has been a practice at some Smithfield-owned farms in Missouri for over 10 years, as the industry has evolved to mitigate rainfall water from manure containment facilities, says Blake Boxley, Smithfield Hog Farms' director of environmental sustainability.
"We get a lot of rainfall in northern Missouri and rainfall impacts our business. Whatever goes into our lagoons, we have to land-apply back out," he says. In a wet year, some farms in the state could get up to 70" of rain.
The solution at the time was large high-density polyethylene (HDPE) lagoon covers with clean and dirty water separation. It also helped create an opportunity for biogas capture.
Initially, the gases captured were burned off, but bioenergy technology has quickly caught up. In 2014, Smithfield partnered with Rudi Roeslein, founder of Roeslein Alternative Energy to create renewable energy projects from the biogas trapped under the covers.
"Generating energy from manure, prairie or other biomass is pretty simple," Roeslein says. "In an anaerobic digester or a covered lagoon, where anaerobic digestion takes place, solids are broken down to release methane gas that is transported to a central processing facility to be converted into RNG."
How Biogas Capture Works
On farms in Missouri, biogas is pulled from covered lagoons and pumped or "blown" into a central cleaning station on the farm. The methane gas is cleaned, separating methane from other elements to meet Department of Energy specifications. At three sites, it is injected directly into a natural gas pipeline. At farms farther from the pipeline and those waiting for transfer lines to be installed, the gas is hauled by trailer.
Since the RAE project began, Smithfield has installed biogas capture equipment on about half of their 88 grow-finish hog lagoon sites in the state. Plans for the remaining sites will be completed within the next two years.