Published by The Guardian
Written by Zach Rodgers
To reduce pollution, big food companies – and even the Cleveland Browns – use biogas projects powered by food waste and pig feces. Why does market success remain a challenge?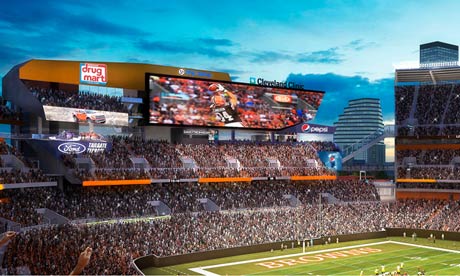 Smithfield Foods, the world's No 1 pork producer, doesn't give up easily. It has tried all sorts of renewable-energy projects – including anaerobic-digestion projects, which use bacteria in an oxygen-free environment to transform agricultural and food waste into gas energy that can be used on-site or sold into the power grid – and has suffered plenty of setbacks. One anaerobic-digestion project in Utah, for example, failed several years ago.
Undeterred, the company has lately set in motion two new anaerobic digester projects – one in northern Missouri and one in Utah – to collect biogas from swine feces. "We have failed at more renewable-energy projects than most people have tried," says Smithfield's chief sustainability officer, Dennis Treacy. "But we see the future with these types of projects."
Anaerobic digestion has grown increasingly attractive to big food producers such as Smithfield Foods and Kroger, as well as big food vendors such as stadiums. For one thing, anaerobic-digestion systems reduce waste – also lowering related waste-disposal costs – while producing energy at a potentially lower net cost than, say, solar or wind power.
They also reduce the amount of methane, a greenhouse gas, released into the atmosphere from the waste. That's not a trivial issue: the US is releasing more methane into the atmosphere than previously thought, according to a study published Monday by the Proceedings of the National Academy of Sciences. That methane – which from 2007-2008 may have been 1.5 times greater than previously estimated by the EPA – comes from a variety of sources, including farm operations, landfills and oil production.
Other benefits include odor reduction – a highlight for neighbors and employees who complain about farm smells – the creation of green jobs and reduced dependence on fossil fuels.
US Secretary of Agriculture Tom Vilsack, who has toured digester facilities at several massive pork and dairy farms, is a fan of the systems for large agricultural operations.
"There is a new economy that can be created through the use of bio-based processing and manufacturing," Vilsack told me. "It is part of an effort to diversify income and job opportunities in rural America … and show Americans there's a way to move away from a reliance on fossil fuels, especially imported fossil fuels."
But, as you'll see below, plenty of challenges remain.
Pig power by Smithfield
For the Northern Missouri project, Smithfield tapped local partner Roeslein Alternative Energy to build a $100m biogas system. The project will cap more than 100 lagoons of liquefied hog waste with impermeable covers to trap the biogas as the waste decomposes. Four have been completed since the project began in 2011 – and Smithfield aspires to finish the remaining 95-plus by 2016.
Tall order? Yes. But the potential benefits are large, including reductions in odor and rainfall entering its treatment system, which will save Smithfield money.
The next step will be for Roeslein to do something with all that biogas, which is just being flared off today. Energy conversion will happen as more lagoons are covered, but Smithfield isn't very focused on that: Under the terms of its agreement with Roeslein it will not realize revenue from energy sales. Rather its key indicators come in the form of "cost avoidance" and a burnished public image.
The Smithfield project in Utah is further along. Joint venture partner Alpental Energy Partners has installed two digesters to which manure is piped from 26 nearby Smithfield-owned farms. The digesters use bacteria to convert manure from approximately 350,000 hogs into electricity, which is fed back into the power grid. In contrast to the Missouri project, Alpental pays royalties back to Smithfield based on the sale of its energy, which at peak production is sufficient to power about 3,000 homes and businesses. According to Alpental's power purchase agreement with a local utility, all power generated at the site stays in Utah.
However compelling this project may be, Alpental is not clamoring to build more systems like the one in Utah. It's worth asking why.
"There's a simple reason we're not lining up 30 new Smithfield facilities," says Brady Olson, VP at Alpental Energy. "We look at each of these projects on a cash flow basis. From an investment standpoint, if you're trying to build one of these to make money, it's more challenging than it was three years ago."
Energy partners appear to be key to the success of digester programs, so a worsening commercial environment would seem ominous. What's behind that? Olson cites a few factors, including downward pressure on energy prices (thanks in part to hydrofracking and other natural gas methods), lower overall demand for energy (owing to efficiency gains), and the phasing-out of some tax incentives for these programs.
But he insists the Smithfield digester system is "a good project" with benefits to both companies. He sees future investment opportunity around similar projects, though he cautions it may require a longer view.
"Power projects in general are long-term in nature," he said. "If someone was willing to take a longer-term view of power and environmental attributes, maybe it does make sense to secure an auction on future movements in the market."
Bruised-apple power by Kroger
The problems of food waste resemble those of swine manure. First, there's so much of it. (By one global estimate, $1tn in food is wasted annually, either wilted on grocery shelves or discarded in homes and restaurants.) Second, its decomposition in landfills contributes to greenhouse gases.
Anaerobic-digestion systems are catching on with some grocery chains. Last year, Kroger installed one at a distribution center in Compton, Calif., to convert food waste from 300 or so regional Ralphs and Food 4 Less locations. The goal was to process 150 tons per day – produce, meat, stale plastic wrapped bread, you name it – and reduce truck trips by half a million miles annually.
Some of this food waste could be donated to food pantries, but much could not due to spoilage or cosmetic reasons. That portion goes to the Compton site, which also houses a private label creamery and the Ralphs and Food 4 Less division offices for Southern California.
Today the system generates enough biogas to offset slightly more than 20% of the distribution center's energy demand.
To set it up, Kroger partnered with a Boston company called Feed Resource Recovery. Feed, founded in 2008, initially planned to put a digester system at every single store it partnered with. That approach proved unsustainable from a maintenance standpoint, so the company migrated to a hub-and-spoke model, with food being trucked in to centrally located digesters.
"We are using this to baseline future systems for them across Kroger's business," Feed CEO Ryan Begin said.
One unanticipated challenge came in the form of California regulatory hoops, which required the project to bring in additional partners. "You've got to factor [red tape] into the process," said Kendra Doyel, group vice president of marketing at Ralphs.
Half-a-hot-dog power by the Cleveland Browns
During last Sunday's game against the Pittsburgh Steelers, the Cleveland Browns showed off a digester system that will divert an estimated 35 tons of food waste from landfills yearly. As with the Smithfield and Kroger projects, the team is working with an energy partner (quasar energy group) as well as a technology vendor (InSinkErator), which produces the grinder technology.
It turns out stadiums are great candidates for digester programs, as are hospitals, convention halls and other facilities where large groups of hungry humans congregate for hours or even days.
The Browns' facility follows similar initiative in Boston's Fenway Park, ahead of a Massachusetts ban on landfill disposal of organic food waste that will take effect next year.
Rising USDA support
By some measures, adoption of digester technology appears to be lagging. According to Google Trends, the term and its variations has steadily declined in news headlines.
That may be partly a result of financial disincentives or even a slight pushback against renewable energy, as Alpental's Olson suggests. Regardless, food-based businesses should consider anaerobic-digestion systems even when the potential for energy cost reduction or revenue from energy sales aren't immediately clear.
Some geographic regions already have related laws or policies – such as tax benefits for these systems or Massachusetts' organic waste ban – that can help a sustainability executive make the case internally for a digester project. More movement is possible at the federal level. At the COP15 United Nations' climate summit in 2009, Secretary Vilsack signed an agreement with US diary producers to reduce greenhouse-gas emissions 25% by 2020. Digesters are part of that plan, and the USDA has offered grants, loan guarantees and other assistance to encourage their adoption.
Vilsack notes the merits of digester technology can't be compared with those of higher-profile cousins like solar and wind.
"Solar and wind are taking advantage of something that has no negative connotation, unless it's too much light or too powerful a wind," he said. "With anaerobic digesters, the motivation is not only to better utilize waste and create economic value from it. It also is really designed to keep the peace in the countryside."